Tartan Football needs volunteers to help our football program be successful. This can be working the concession stand or post game dinners. Below will be a link for a signup sheet during the season. Please check back often.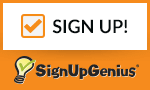 Dates that we need help with:
9/2, 9/11, 9/17, 9/24, 10/1, 10/9, 10/15, 10/20/2021
Then for Playoff's 10/26, 10/30, 11/5 – Will update as needed.
Click on the SignUpGenius button above to help our team out.
If you have any questions, please let us know. Email: TTC@Tartanfootball.com and once of us will get back to you ASAP.